Katie Fitzgerald announced as new President & CEO
Fitzgerald Joins RMHC After Serving as President and COO of Feeding America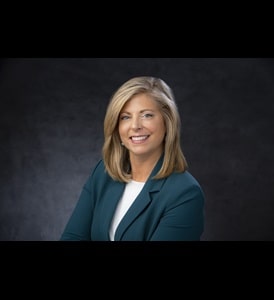 CHICAGO, February 2, 2023 – Ronald McDonald House Charities® (RMHC®) Global Board of Trustees appoints Katie Fitzgerald as President and CEO, effective March 6. In her new role, Fitzgerald will lead the strategic vision for the Charity's long-term growth, global impact and delivery of mission at RMHC Chapters around the world. Fitzgerald succeeds former President and CEO Kelly Dolan who announced her retirement in June.
"On behalf of the RMHC Board of Trustees, we are pleased to welcome Katie Fitzgerald as President and CEO of Ronald McDonald House Charities Global," said Ginger Hardage, Chairman of the RMHC Board of Trustees. "Katie's leadership experience in the nonprofit sector will be critical to the organization's continued success as we approach the 50th anniversary of RMHC and build out our strategy for our next 50 years."
Fitzgerald brings more than 25 years of experience to the role, most recently serving as President and Chief Operating Officer at Feeding America, the nation's largest non-profit organization working to end hunger. Prior to joining Feeding America, she held leadership positions at the Regional Food Bank of Oklahoma, Make-a-Wish Oklahoma, Center for Children and Families in Norman, Oklahoma, among other organizations.
"RMHC plays a vital role in enabling, supporting and facilitating family-centered care to provide vital resources and access to health care for families with children who are sick," said Fitzgerald. "I'm honored to join the team and support the incredible work being done by the RMHC system to help keep families together when they need it most."
Katie will also be a member of McDonald's Global Impact Leadership Team, partnering with the brand's leadership to ensure continued alignment and partnership across both organizations.
"McDonald's ongoing support of RMHC plays an important role in delivering on our commitment to feed and foster communities all around the world," said Jon Banner, Executive Vice President and Global Chief Impact Officer at McDonald's. "As the Charity's founding and forever mission partner, we are excited to welcome Katie to the McDonald's system. Her extensive nonprofit background will undoubtedly help advance the RMHC mission and strengthen our joint efforts moving forward."
Fitzgerald has spent her career in the nonprofit sector, working to improve outcomes for children, youth and families. She received her bachelor's degree from Michigan State University and master's degree in social work from the University of Michigan. She will be based in the organization's Chicago office.
About RMHC
Ronald McDonald House Charities® (RMHC®), is a non-profit, 501(c)(3) corporation that creates, finds and supports programs that directly improve the health and well-being of children and their families. Through a global network of over 260 Chapters in more than 60 countries and regions, RMHC enables, facilitates and supports family-centered care through three core programs: the Ronald McDonald House®, the Ronald McDonald Family Room® and the Ronald McDonald Care Mobile®. RMHC programs help families with ill or injured children stay together and near leading hospitals and health care services worldwide, ensuring they have access to the medical care their child needs while fully supported and actively involved in their child's care. For more information, visit RMHC.org.
MEDIA CONTACT:
media@rmhc.org