Joey Jao and his wife Jazmine know just how precious it is to be able to stay close to a hospitalized child. Shortly after their daughter Justine was born, she was transferred to a hospital many miles from their home.

"She was our first born, so it was terrifying to experience that after a fairly normal pregnancy," Joey recalls. They were also worried they may have to leave Justine in the hospital to return to their home, a 3-hour drive roundtrip. Joey recalls thinking, "I have to be here by her side".

Thankfully, Joey and Jazmine were able to utilize the Ronald McDonald Family Room— a space inside the hospital, just steps from Justine's bedside - to relax and recharge. And when they required more long-term accommodations, they were referred to the Ronald McDonald House a few blocks away, where they stayed for 40 days.

Several years later, Joey Jao continues to stay involved with RMHC and supports the organization by running with Team RMHC for the Chicago Marathon and, most recently, through his passion for online gaming.

In July, to celebrate Video Game Day 2022, Joey hosted a fundraiser on Tiltify for RMHC. Not only did Joey raise funds himself, but he also recruited seven players to join his team and together they raised nearly $7,000.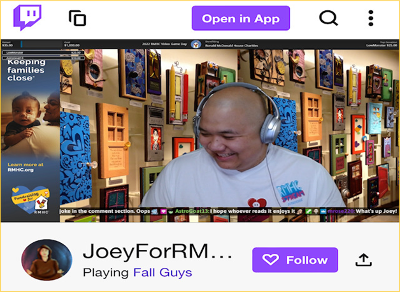 Joey shared that his motivation to support RMHC stems from the care he and his wife received.

"To see the compassion, the patience and the support that RMHC gives to families was really heart-warming. They took care of us at a time when all we could think about was our daughter," explained Joey.

"Our family knows firsthand the impact RMHC can have on families like ours today, and in the future, helping to ensure they can be there for each other when a child gets sick. Jaz and I will always be eternally grateful for the support that RMHC gave to us when we needed it most."